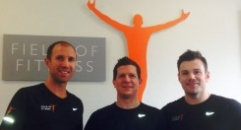 Mark Finnegan, director of Complete Mortgages Ltd, has teamed up with Guildford fitness experts, Field of Fitness, to boost productivity within the work place.
After three months of one-to-one personal training at the private studio on Chapel Street, the Complete Mortgages founder quickly realised the health benefits provided and recognised its potential with regards to motivating his workforce.
Mark comments: "Not only did I feel great and more productive on a personal level but the wider implications of improving the productivity of my team were clear. It wasn't long before I established a partnership with Field of Fitness, which has now become an instrumental component within our staff wellbeing programme."
Now, when each of Mark's employees reach their monthly targets, they are rewarded with a paid for one hour session covering specific conditionings with one of Field of Fitness's trainers.
From core conditioning and lower back training to postural correction, improving flexibility, sports massage and nutritional therapy, the team at Complete Mortgages has been able to take full advantage of a wide range of health benefits.
Each member of staff is given a full assessment including body fat measurement, blood pressure, a core strength test and postural analysis.  After this is completed a programme is prepared to specifically address the results from the assessment.
Mark concludes: "Whilst workplace initiatives such as these are often viewed as a luxury, I now value what Field of Fitness do as an essential route to motivating my team and combating staff sickness, the result of which can have a devastating effect on business output."
For more information contact www.fieldoffitness.com.  You will receive a 50% discount off your first consultation if you mention that you are a client of Complete Mortgages!