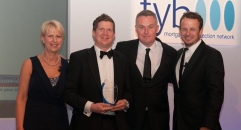 Guildford mortgage and insurance brokerage, Complete Mortgages, has scooped the Top Mortgage Adviser of the Year award for the third year in a row – beating off competition from over 350 advisers and mortgage brokers nationwide.
The award celebrates the highest performing mortgage adviser in the UK and was presented to Complete Mortgages' founder, Mark Finnegan, by former English rugby union player Austin Healey at the Sofitel London Heathrow.
The eighth Mortgage Intelligence / Mortgage Next Network annual conference welcomed 200 attendees from the Mortgage Intelligence and Mortgage Next networks including prominent banks, building societies and insurance providers.
On receiving the award for 2013 Mark comments: "The eighth Mortgage Intelligence / Mortgage Next Network annual conference demonstrates that despite being in a period of economic recovery, the UK financial services sector is still as strong as ever. This award recognises our commitment to our clients and is the result of the hard work that the Complete Mortgages team continues to put in to ensure that our clients are well equipped for their next step. We're delighted to have received the award for a third year in a row and remain dedicated to delivering first-class customer service and raising the profile of the industry."
Austin Healey ended the night as evening guest speaker before Sally Laker, Managing Director of Mortgage Intelligence Holdings, closed the ceremony.
For more information on using a mortgage broker click here. To speak with a member of the Complete Mortgages team call us on 01483 233014.