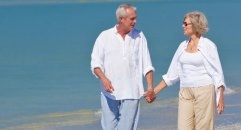 So, you're looking to raise money. Whether it's for improvements to your home, the purchase of a second property or helping a family member buy a home you would like access to a sizeable amount of money. And quick.
The good news is that if you have a 'healthy' amount of equity in your property then converting it into cash shouldn't be too difficult. But how do you go about releasing equity from a property that you've owned for some time?
It's very simple. There are a number of equity mortgages (sometimes known as equity release or lifetime mortgages) currently on the market.
The two main types of equity release scheme are lifetime mortgages and home reversion plans. In both cases, when it comes to releasing equity from your property, it's really important that you take advice from a specialist as this approach could have a number of implications.
As a Guildford mortgage broker we have access to the largest portfolio of mortgage products on the market and are here to find you the best mortgage rates. We also want to give you the best mortgage advice so that whatever product or approach you take, it's one that suits your needs and lifestyle both on a short and long-term basis.
As a starting point we thought we'd provide you with a quick introduction to equity release mortgages. Common questions that we receive include:
Q) What age do I need to be to qualify for an equity release mortgage?
Equity release mortgages are typically designed for older homeowners who perhaps are unable to take on a regular mortgage and whose income level may prove difficult for them to make regular repayments. Typically speaking, the minimum age is 55 for lifetime mortgages and 60 on reversion plans.
Q) What's the difference between a lifetime mortgage and a home reversion plan?
Lifetime mortgages allow you to take out a loan on a property in return for a lump sum. You still own the property without having to make monthly or regular repayments; the loan is repaid when you die or when you enter long-term care. The Money Advice Service has demonstrated that a £45,000 loan taken out at a rate of five per cent will have grown to £57,433 after five years and to £93,552 after 15 years. Should you live for a further 25 years after taking out the loan you would need to repay a total of £152,387.
Alternatively, a home reversion scheme would see you sell part (or all, in some cases) of your home to a company in exchange for a lump sum. When the property is eventually sold you or your estate receive the percentage of the property owned by you. In effect, by taking out a reversion plan you become a tenant in your own property.
Q) How much can I borrow?
As you would probably expect, this depends on a number of elements such as the value of your property and your age. On lifetime mortgages the maximum loan is typically around 36 per cent of a property's value for a 70 year old or 50 per cent for a 90 year old. On reversion plans you can sell 100 per cent of your property and what you get in return depends on your age, with younger people typically getting offered less than their older counterparts.
Q) Sounds great. How do I apply?
Firstly, equity release schemes such as these are a big deal. So, in order to help you come to an informed decision the team at Complete Mortgages would always advise you to pop in and discuss it with a member of the team.
If you're still unclear or would like more advice on how to make an equity release mortgage work for you then simply call us on 01483 238280 or email us at info@complete-mortgages.co.uk.