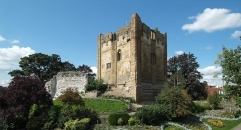 UK property prices will have increased by 8% by the end of 2014, according to industry sources, with property values in Surrey up by 13.6%.Land Registry data suggests that every country in the UK experienced value increases when compared to the same point last year, with the South East experiencing the strongest increase outside of London at 11.4%.
A Knight Frank report has also revealed that the number of properties worth more than £1m outside of London has increased by more than a third over the last year, with the largest increases being seen in Elmbridge, Windsor and Maidenhead and Guildford.
Mark Finnegan, Director at Complete Mortgages, comments: "We're currently seeing a high number of mortgage applications from Surrey homeowners, which is down to two reasons. Firstly, people are looking to secure a mortgage before the value of the property they wish to buy increases to a point where it becomes unachievable. With such strong growth in the South East it doesn't take long for that to become an issue. Secondly, homeowners are already looking ahead to 2015. With all signs pointing towards future growth I would urge those who are considering arranging a mortgage in the New Year do it sooner rather than later in order to reduce the risk of being priced out."
Complete Mortgages is a Guildford-based mortgage and insurance brokerage providing access to a full suite of mortgage products including first-time buyer mortgages, mortgages for contractors and mortgages for teachers.
For more information contact Complete Mortgages on 01483 238280 or email info@complete-mortgages.co.uk.