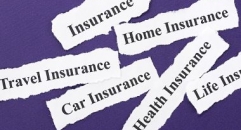 Signing an insurance policy doesn't mean that you can put it in a lever-arch file at the back of a cupboard and forget about it.
Whether you have critical illness cover, life cover, property insurance or a general health insurance plan, the advice that we're giving our existing and prospective clients is review your insurance policy regularly – at least every six months – or risk owning a policy that isn't worth the paper it's printed on.
As an insurance and mortgage brokerage, we're often astounded by the laid back approach of the public when it comes to protection insurance. Indeed, a recent insurer's poll of UK protection purchasers revealed that people aren't taking variable 'life factors' into account when it comes to their own insurance policies.
For example, changes in mortgage status such as taking on a larger mortgage or remortgaging, marriage (or divorce) and even having a baby all have implications when it comes to insurance cover.
Imagine taking out life insurance policy in 2014 where the policy stipulates that in the even of your death, your partner will receive the full amount of your mortgage liability, which, for example, is £250,000. In 2016, you purchase a property that increases your mortgage liability to £350,000 however you don't review and renew your insurance policy. Immediately you are running the risk of your partner missing out on £100,000 in the event of your death.
A sombre thought. Of course, this also applies to less serious and non-fatal events, too. Equally, are you paying too much for your insurance since downsizing your property? You really are missing a trick if you're not fully aware of what your policy covers you for.
So, what can you do to make sure that your policy covers you at any given life stage?
Simply go and get professional financial advice from an insurance broker who can source a policy that works for you and commit to regularly reviewing your policy in tandem with your current situation.
If you have concerns about your existing protection insurance policy, would like insurance quotes or would just like to find the best policy for you, get in touch with us on 01483 233014 or email our insurance specialist carolyne@complete-mortgages.co.uk.