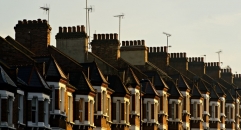 2014 was a busy year for the mortgage market. Firstly, back in April, the Mortgage Market Review (MMR) was introduced. This set of regulatory rules has since required lenders to delve deeper into each applicant's true affordability, focussing on an individual's outgoings – from childcare costs to the cost of commuting to and from work – more than ever before.
As anticipated, the MMR slowed down the mortgage application process. This, combined with the fact that lenders then started to release what were arguably the most competitive deals to enter the market in years, led to a degree of 'bottlenecking'. Mortgage approvals subsequently began to fall month by month and many people throughout the UK looking to arrange a mortgage in time to secure their new property (before someone else did) were, in some cases, left disappointed.
However, as new data from the Bank of England shows, mortgage approvals totalled 60,725 in December, up 1,769 from November. Although markedly down from the 90,000 a month that we saw prior to the recession, this is still hugely encouraging news for anyone planning a property purchase in 2015.
Those looking to find a mortgage, however, need to be mindful of two things. Whilst we're still very much in the midst of winter (it's -3 degrees Celsius at the time of writing), spring is not that far away and with spring comes a period of increased activity from homeowners looking to make their next move. And, of course, increased activity brings with it the potential of increased delays. Also, as is the case with supply and demand, the higher the demand for mortgages, the more likely it is that the competitive rates we have recently seen enter the market become less competitive as lenders reconsider their products.
Of course, it is impossible to predict lenders' next moves and there is no evidence to suggest that this is what they will do, however as a mortgage adviser with many years experience of helping our clients apply for a mortgage, we feel that these two factors are worth highlighting.
Arranging a mortgage on your own can be time consuming and frustrating, which is why mortgage broker advice and guidance from a whole of market, independent mortgage adviser can make your next move much more straightforward. So, if you're looking to beat the spring property rush and get prepared in advance, then now's the time to get the wheels in motion.
And, whilst we're a Guildford-based mortgage brokerage, our clients are located throughout the UK, so for the best mortgage advice get in touch on 01483 238280 or email info@complete-mortgages.co.uk for more information.
By Mark Finnegan, Director at Complete Mortgages