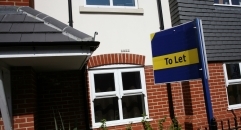 Once again, the buy to let market is booming.
And, as is often the case when it comes to buying property as an investment, there is a mixed response in the media about what it represents, particularly to first time buyers looking to exit rented accommodation and enter home ownership.
However, buying property as an investment isn't something that will ever go away. So, if you're in the market for a buy to let property and looking to find a buy to let mortgage, then here's some free mortgage advice.
1. To know the market is to know the risks
There is huge appeal with the prospect of making money AND getting your mortgage paid for at the same time. Let's face it, the UK's current interest rates mean that any return on your savings isn't great. However there are risks that need to be considered before you make the jump and take on any commitment. Research the area thoroughly and make sure that you're fully aware of the implications before making a decision.
2. Buy something that you would be prepared to live in
It sounds so straightforward however it can be so easy to overlook. Why? Because in the quest to enter into multiple homeownership people can 'cut corners' by buying something just to get on the buy to let market – even if they wouldn't live there themselves. And if you wouldn't live in it, then maybe your prospective tenants wouldn't either, which takes us on to the next point…
3. Put yourself in someone else's shoes
Keep your prospective tenants in mind. If your budget affords no more than a one bedroom flat, could you be attracting transient tenants and face having to repeatedly put your property on the market? Similarly, if you're targeting students then maybe you don't need to extend your budget to a luxurious two-bedroom apartment. Also, are you prepared to let your tenant make it 'their own' by adding their own design details to it? Allowing someone to create his or her own stamp on your property could potentially be the difference between a short-term and long-term tenant.
4. Location is everything
As a mortgage broker in Guildford, this is perhaps all too easy for us to say. As a large, affluent town that falls within the London commuter belt, property in Guildford and the surrounding areas is always in high demand and values continually grow. Of course, you have to buy what you can afford but don't compromise on location (regardless of where you live), as this could be the difference between renting and not renting out your property. Key things to consider are distance to the nearest train station, schools in and around the area and whether or not it has good local amenities. Going back to point two, has it got enough to attract your attention if you were looking for somewhere to live? If not, then maybe you need to reconsider.
5. Get the best mortgage advice. Find a mortgage broker you trust
We couldn't give you five top tips on buy to let mortgages without including a reference to mortgage brokers. As a team of independent mortgage advisers, Complete Mortgages provides you with access to every deal on the market. From first time buyer products through to commercial mortgages and, of course, buy to let mortgages, we can find the deal that suits your needs, lifestyle and affordability.
Get the best mortgage advice. Get in touch with Complete Mortgages on 01483 238280 or email info@complete-mortgages.co.uk.