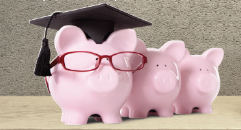 It would seem that HMRC has launched a 'crackdown' on a number of groups in order to identify gaps in tax receipts. While not exhaustive, these groups include buy-to-let landlords, taxi drivers and teachers. Yes, teachers.
My only knowledge of the teaching profession comes from having children at school, so whilst I'm not well placed to speculate on how teachers could partake in tax avoidance I do know that they do a great job, day in, day out.
Whereas HMRC has invested in its multimillion-pound Connect system to help identify discrepancies, the team at Complete Mortgages has been investing in a campaign to make mortgages for teachers even more accessible.
Our campaign, which some of you may have seen as schools in and around Surrey have been pinning up our posters in their staff rooms, is called 'Calling all Teachers'. Put simply, throughout 2015 we're offering to waive our broker fee for teachers, which is typically £299, and donate 10 per cent of the commission we receive from mortgages secured for teaching staff to the school at which they work. Not only will teachers benefit from a beneficial rate, but the schools will be able to invest in facilities and equipment, too.
As an award-winning Guildford-based mortgage and insurance brokerage we've grown a following amongst teachers to the point whereby Complete Mortgages has become regarded as a brokerage that specialises in securing mortgages for the education sector.
So, if you're a teacher looking to find a mortgage or simply need mortgage advice, then our team of mortgage advisers are always happy to help. And as Complete Mortgages is a team of independent mortgage advisers with access to every deal on the market, you can be assured that we will find the best deal for you and your lifestyle.
Oh, and whilst we're based in Guildford, our Calling all Teachers campaign is available to everyone throughout the UK. So, whether you're based in Guildford or Glenrothes, we can help.
For the best mortgage advice get in touch on 01483 238280 or email info@complete-mortgages.co.uk for more information.
By Mark Finnegan, Director, Complete Mortgages