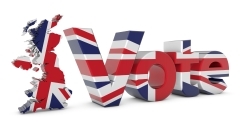 We're at the end of the five-year political cycle, which means three things: uncertainty, unease and (arguably) unproductivity.
As a mortgage adviser who has seen many elections, I've come to expect this 'blip'. And it isn't exclusive to the financial markets. It affects every industry and sector. However with experience comes an inkling of what will happen in the lead up to the election and, perhaps more importantly, what will happen post-election.
So, let's start with the pre-election phase. According to the Council of Mortgage Lenders, a total of 40,600 loans, worth a reported £6.8bn, were signed off in February.
This represents a one per cent drop since January and a three per cent drop when compared with the same time last year. From our perspective, a drop in the number of people looking to find a mortgage isn't a surprise. In fact we recall the same trend in 2010 in the lead up to the last election. After all, a reluctance to take financial risks is hardly surprising whenever there is uncertainty around important components of the mortgage mix – such as interest rates and the potential impact upon lending and mortgage deals.
However, in order to predict 'what happens next', you need to retain perspective and remember that people still want – and need – to move, which means that people still need to find a mortgage.
Post-election then. Once the uncertainty has faded and the unease has been replaced with confidence, I predict that there will be a surge of activity that may lead to bottlenecking when it comes to mortgage applications. The property market is a key barometer for the mortgage market and even though it's spring, a time when the property market is generally at its busiest, it's moving very slow in the lead up to the election. Again, once the uncertainty has disappeared there will no doubt be a flurry of activity as people decide they can't wait any longer and put their property on the market, which will ultimately impact on the mortgage market.
If you think you're going to need a mortgage sometime over the next couple of months then my recommendation would be to get the best mortgage advice sooner rather than later in order to beat the rush when it hits mid-May.
Getting good mortgage broker advice now will stand you in good stead once the new government has been elected.
For independent advice on mortgages – from buy to let mortgages to commercial mortgages – get in touch with the Complete Mortgages team on 01483 238280 or email info@complete-mortgages.co.uk.
By Mark Finnegan, Director, Complete Mortgages