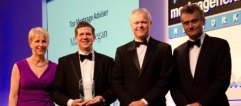 We are pleased to announce that Mark Finnegan of Complete Mortgages Ltd followed his success in 2011 by winning the top mortgage adviser of the year award again at last week's prestigious Mortgage Intelligence / Mortgage Next Network annual conference.  The network has around 250 advisers in total.
Mark was also on the shortlist of 3 for the top overall adviser award (mortgage and insurance) and Complete Mortgages Ltd received recognition as one of the top 10 firms in the network.
Mark said "2012 has been a really big year for Compete Mortgages.  We have grown from 3 to 6 staff and the pressure was on me to win this award for a second year!  We have a fantastic team here, they have given me great support and hopefully we will be up for more awards in 2013".
Here is a photgraph of Mark receiving his award from Sally Laker (MD of Mortgage Intelligence / Mortgage Next), Charles Haresnape (MD of Residential Mortgages, Aldermore Bank) and Hugh Dennis (actor / comedian).