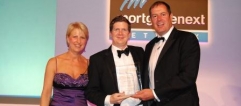 We are pleased to announce that Mark Finnegan of Complete Mortgages Ltd won the top mortgage adviser of the year award at last week's prestigious Mortgage Intelligence / Mortgage Next Network annual conference.  The network has around 250 advisers in total.
Mark said "I am absolutely delighted to have won this award.  Since setting up Complete Mortgages in 2005 I have seen the levels of business steadily grow in a particularly difficult market.  My colleagues and I are extremely focused on customer service, which has meant that we get numerous referrals from our satisfied clients and they always come back to us when they are looking to move or remortgage.  I believe that is is down to our service that I have won this award".
Here is a photgraph of Mark receiving his award from Sally Laker, MD of Mortgage Intelligence / Mortgage Next, and Nigel Stockton, Financial Services Director of Countrywide.