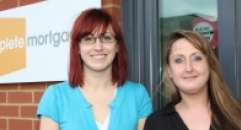 MERGER SEES COMPLETE MORTGAGES SET FOR FUTURE GROWTH
Surrey mortgage and insurance brokerage, Complete Mortgages, is testament to a growing economy following the announcement that it has merged with Bournemouth firm, JF Mortgage Services.
The award-winning brokerage, founded by director Mark Finnegan in 2005, has grown from three to nine staff in the last two years. The merger is expected to help Complete Mortgages build on this momentum.
The merger will see Joanna Frankowski, who formed JF Mortgages three years ago, join the Complete Mortgages team in order to help build its residential and buy-to-let mortgage portfolio and expand the company's insurance client base.
Joanna will split her time between Complete Mortgages' head office in Guildford and the newly launched Bournemouth office. She joins the firm with a wealth of experience including time spent working at national firm Countrywide.
On the merger Joanna comments: "There are often challenges at the initial stages of a merger however what's refreshing about this move is that there genuinely is a natural fit between the portfolios of JF Mortgages and Complete Mortgages. The decision that Mark has taken will no doubt generate long-term growth for Complete Mortgages by widening its geographical territory using the infrastructure it already has in place. I look forward to working with Mark and the team and believe that the insurance element of the business will increase by over a third by this time next year."
The merger coincides with the appointment of Sophie Rowlands, who joins Complete Mortgages as an administrator, an office move, given how the company's recent expansion has outgrown its previous office space and a corporate rebrand.
On the company's growing success founding director Mark adds: "It has been a whirlwind ride, from launching the firm in 2005 shortly before the economic crash and riding out the subsequent recession to now, when mortgage applications are at their highest for years and all evidence points towards continued mortgage accessibility for existing homeowners and first-time-buyers. I'm delighted with the company's growth and now that Joanna is in place I'm confident that the company is firmly on the path to achieving great things."
For more information visit www.complete-mortgages.co.uk.
For more information please contact Stuart Pearson at The PR Farm on 01483 892301 / 07812 086211 or at stuart@theprfarm.com.