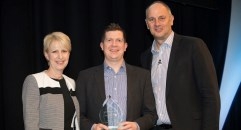 Mark Finnegan, Founding Director of Guildford mortgage broker and insurance brokerage, Complete Mortgages, has received the Top Mortgage Adviser of the Year Award at the ninth Mortgage Intelligence Annual Conference.
The event, which took place at the East Midlands Conference Centre in Nottingham, welcomed over 180 attendees from across the UK, all of which were vying for the national award.
Olympian and celebrated rower, Sir Steve Redgrave, presented Mark with the award alongside Sally Laker, Managing Director of Mortgage Intelligence Holdings Ltd.
The conference also welcomed support from some of the UK's well-known banks, building societies and insurance providers and culminated in a keynote presentation by Countrywide Chief Executive, Alison Platt, and Mortgage Intelligence's Sally Laker.
On receiving the coveted national award for the fourth time, Mark comments: "Winning the award once is an achievement, but to have received national recognition four times is something that myself and the team at Complete Mortgages are really proud of. The mortgage market is going from strength to strength, which has been expedited by the number of competitive deals that have recently been launched. In the wake of increased mortgage applications it's vital that the standard of advice provided to those looking to secure a mortgage remains high and this national award illustrates that Complete Mortgages is very much committed to this."
For more information on using a mortgage please speak with a member of the Complete Mortgages team on 01483 238280.